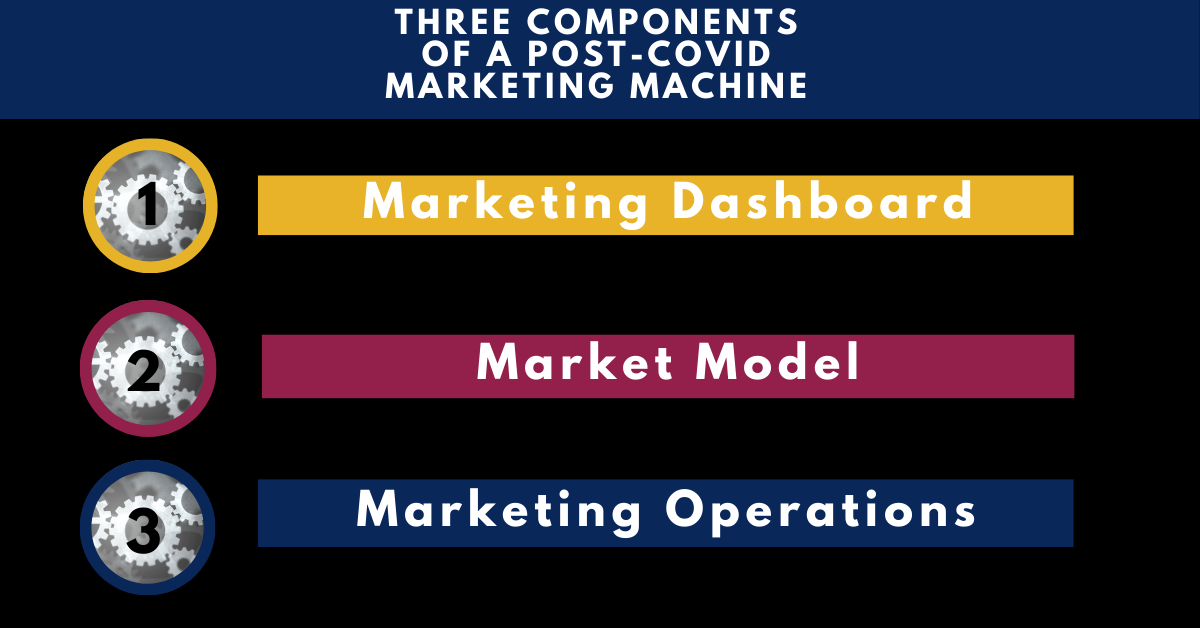 17 Aug

How to Build a Post-Covid Marketing Machine

As society moves into a post-Covid era, marketers need to adjust their strategic and tactical planning and execution methods.  Covid accelerated the shift to digital media channels and the adoption of sophisticated e-commerce platforms.  Now, consumers don't just expect free 2-day shipping. They expect same-day curbside pickup for all of their groceries.  Telecommuting used to be a unique perk to attract talent.  Now, it is an expected benefit as workers have proved that they produce quality work from their home offices.  Tourist attractions like museums offer virtual tours and behind-the-scenes blogs.  These features will remain a part of the organization's value propositions even as consumers gather for in-person events and experiences.

What does the emerging customer profile mean for marketers? How can companies build a marketing machine that prepares their team to win in the new marketplace?
There are Three Components of a Post-Covid Marketing Machine:
1) Marketing Dashboard
First, companies must build a marketing dashboard that tracks their marketing performance throughout their customers' purchase funnel.
2) Market Model
Second, marketers must develop a marketing model that answers critical business questions, such as what is the right marketing mix and how to balance price, distribution, media mix, and investment.  Building the right model with the right data hinges on the cost of the data, the availability of the data, and the definition of the business question.  Don't fall for the trap of measuring everything just because you can — gathering the right data that answers the business question is the goal.  Then, marketers can connect their marketing efforts to sales revenues, determine the ROI and provide strategic and tactical marketing decision support.
3) Marketing Operations
Third and last, marketers must connect the dashboard and marketing model to marketing processes and operations.  The data should answer the business question and drive operations as a result.  Marketers must synthesize the data to derive operational insights and make recommendations for strategic changes.  This analysis process will allow the business to achieve its sales targets with certainty.
Prepare for the Post-Covid Marketplace
Marketing doesn't have to be a guessing game.  With the right marketing machine, companies can make well-informed, strategic decisions about their marketing initiatives and design the marketing activities across all 4Ps (Product, Price, Place, and Promotion) that maximize ROI.  Companies can prepare their teams to win in this turbulent post-covid marketplace.
Interested in reading more about how Covid has impacted marketing strategy? Pre-order Prorelevant Founder Guy Powell's book, The Post-Covid Marketing Machine: Prepare Your Team to Win.
Sign up for the Marketing Machine training course on our Services page